Battery Care Tips For Dell laptop batteries
Dell laptop battery Care Tips
Upgrade my laptop battery from Ni-MH to Li-ion
Ni-Cd, Ni-MH and Li-ion
Dell notebook battery
are all fundamentally different from one another and cannot be substituted unless the Laptop has been pre-configured from the manufacturer to accept more than one type of battery chemistry.
Please refer to your manual to find out which rechargeable battery types the laptop device supports or use our
Dell battery Finder above to find all the compatible
Extended Life Laptop Battery
for your device. It will automatically list
all of the battery chemistries supported by your specific device. If your device does allow you to upgrade the
notebook battery
from Ni-MH to Li-ion, you will typically get longer run times.
For example, if your Laptop uses a NI-MH battery that is 9.6 Volts, 4000mAh and the new Li-ion Laptop Battery is 14.4 Volt, 3600mAh, then you will obtain longer run time with the Li-ion battery.
Example:
Li-ion: 14.4 Volts x 3.6 Amperes = 51.84 Watt Hours
Ni-MH: 9.6 Volts x 4 Amperes = 38.4 Watt Hours
The Li-ion is stronger and has longer run time
Laptop Battery Comparison Chart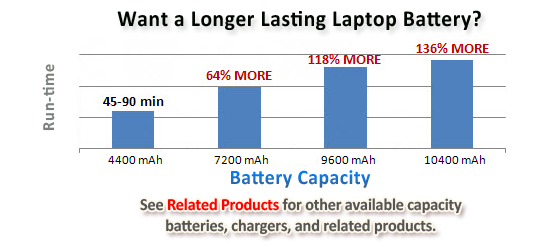 Order your Dell spare laptop battery before 2pm AEST/AEDT and we Guarantee Next Day Delivery* of your order using Australia Post or Fastway Courier within Australia. All of our Dell notebook batteries come with a 12 month warranty, 30 day money back guarantee.
How can I maximize the performance of my Dell laptop battery?
There are several steps you can take to help you get maximum performance from your Notebook Batteries:

Prevent the Memory Effect - Keep the battery healthy by fully charging and then fully discharging it at least once every two
to three weeks. Exceptions to the rule are Li-ion batteries which do not suffer from the memory effect.

Keep the Dell laptop battery pack clean - It's a good idea to clean dirty battery contacts with a cotton swab and alcohol.
This helps maintain a good connection between the battery and portable device.

Battery Storage - If you don't plan on using the Laptop Battery for a month or more, store it in a clean, dry, cool place
away from heat and metal objects. Ni-Cd, Ni-MH and Li-ion batteries will self-discharge during storage; remember to
recharge the batteries before use.
What is the run time of www.battaussie.com's Laptop Battery?
Dell laptop battery have two main ratings on them: Volts and Amperes. Because size and weight of Laptop Battery is
limited when compared to larger batteries such as car batteries, most companies show their ratings with Volts and Mill amperes. One thousand Mill amperes equals 1 Ampere. When buying a battery, select batteries with the most Mill amperes (or Ah). Batteries are also rated by Watt-Hours, perhaps the simplest rating of all. This is found by multiplying the Volts and the Amperes together. For example:
14.4 Volts, 4000mAh (Note: 4000mAh is equal to 4.0 Amperes).
14.4 x 4.0 = 57.60 Watt-Hours
Watt-Hours signifies the energy needed to power one watt for one hour. This Dell laptop battery can power 57.60 watts for
one hour. If your Laptop runs at 20.50 watts, as an example, this Laptop Battery could power your Laptop for 2.8 hours.

With our high capacity extended laptop battery options you can work,
watch and play longer - up to 68% more capacity than your original factory battery. All of our
laptop battery and notebook battery offerings are newly built, using only the top quality battery cells,
and all of them feature high capacities.
How to Extend Lenovo Thinkpad T61 Laptop Battery Life
Boost Apple A1322 laptop battery life tips
How to improve Acer al10c31 laptop battery life
How to prolong Asus a32-a8 laptop battery life
How to make your laptop battery more efficient
How to prolong Dell vostro 1710 battery life
Ways to conserve Dell latitude e5410 laptop battery power
Long-Term Laptop Battery Stretching Strategies
Ways to boost HP 593554-001 laptop battery life
Boost HP Pavilion dm4 laptop battery life tips
How to increase Acer as07a41 laptop battery life
How to improve Toshiba PA3757U-1BRS battery life
Keep long-lasting Toshiba pa3285u-1bas battery life tips
How to check Dell inspiron 1525 laptop battery working condition