HP pavilion dm4t is a 14" notebook designed to be a portable performance and entertainment machine, as an above average high resolution LCD, is light and portable, can do a mSATA + HDD combo, has good sound, gets good battery life and just about every port you'll need. There are two laptop battery options offered on HP Pavilion dm4t series notebook.  There's the standard six-cell battery, which sits flush with the back of the notebook like you see in the picture above.  There's also a nine-cell battery, which sticks out downward from the bottoms of the notebook, raising the rear.  We have the standard six-cell battery.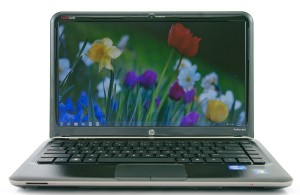 Usually laptop battery no longer delivers three or four hours of power, and that its usable time continues to shorten. Or one day, its get-up-and-go has completely gotten-up-and-went because of over time, oxidation increases resistance within the battery and eventually it can no longer reliably deliver its charge. When you are good to laptop battery it will be last longer, today Australia leading batteries & power supply supplier: BattAussie.com battery experts share following tips to help you increase the laptop battery life span.
1. Avoid running your HP pavilion battery down to zero. It's okay to do this from time to time, but don't make it a regular habit. With a modern Li-ion battery, it is better to have many partial discharges and recharges instead of constantly running it down to empty.
2. Remove the HP 593554-001 battery. If you're going to use your laptop for an extended time while connected to an AC power source, turn off the machine and remove the battery. A Li-ion battery generates heat (and shortens its life) if you charge it while the computer is in use with HP PPP012H-S AC Adapter.
When you remove the battery from your laptop and run the laptop computer on AC power, you're adding one risk: If the power fails, you won't have the battery ready to take over immediately and thus you will lose any unsaved work. You can counter this by connecting your power to a UPS (uninterrupted power supply) device.
3. A Li-ion battery holds its charge best when the temperature is between 32 degrees and 77 degrees Fahrenheit (about 0 to 25 degrees Celsius). It slows down if it gets much colder, and it loses its ability to hold a charge if it gets much hotter. Always use your HP pavilion laptop in a cool environment.
4. Put a charge on. If you remove your battery to store it for a while, give it at least a 40 to 50 per cent charge; certain types of laptop batteries can fail if they discharge all the way to zero. Check the laptop battery charge level at the power utility on your task bar.
Did you enjoy this post? Why not leave a comment below and continue the conversation, or subscribe to my feed and get articles like this delivered automatically to your feed reader.