Remark: we will dispatch the laptop battery from Australia within 24 hours, you can track your order by this link:
if you want to know the status of your order.
1. Carefulnessly read narrate book of battery, use commendatory battery.
2. Research whether the electric appliance and
Asus a32-f80 laptop battery
contact elements is whether clean,
when necessity clean with wet cloth mop, after dry loads according to the correct polar direction.
3.When non-adult custody, don't let the child replace the
a32-f80 battery
.
4. Don't try to make
Asus a32-f80 battery
rebirth use of hotting up, charging or other way.
5. Asus a32-f80 battery shoud be take off from
Asus a32-f80 adapter
when it is long time no use.
Please make sure that your battery part number or laptop model is listed on the compatibility list before making a purchase. If it does not, please email our battery experts
This Laptop Battery could replace the following part numbers:
ASUS
70-NF51B1000, 90-NF51B1000, 90-NF51B1000Y, 90-NNN1B1000Y, A32-A8, A32-F80, A32-F80A, A32-F80H, NB-BAT-A8-NF51B1000
This Laptop Battery also compatible with the following models:
ASUS
Asus F83,
Asus X61, 
Asus X81, 
Asus X85, 
Asus X88

    Asus A8 Series
A8A, A8Dc, A8E, A8F, A8Fm, A8H,
A8He, A8J, A8Ja, A8Jc, A8Je, A8Jm, 
A8Jn, A8Jp, A8Jr, A8Js, A8Jv, A8Le, 
A8M, A8N, A8Sc, A8Se, A8Sr, A8Tc, 
A8Tm, A8Z

Asus A8000 Series
A8000F, A8000J, A8000Ja, 
A8000Jc, A8000Jm
    Asus F50 Series
F50, F50Gx, F50Sv, F50Z

    Asus F8 Series
F8P, F8Sa, F8Sg, F8Sn, F8Sp, F8Sr, F8Sv

Asus F80 Series
F80Cr, F80L, F80Q, F80S, N80Vm, N80Vr, N81Vf 

    Asus F81 Series
F81, F81Se 

    Asus N80 Series 
N80Vc, N80Vn

Asus N81 Series
N81Vg, N81Vp
    Asus Z99 Series
Z99Fm, Z99H, Z99J, Z99Jc, Z99Jn, 
Z99Jr, Z99Sc

Asus X80 Series 
X80, X80H, X80L, X80Le, X80N, X81Sc, 
X81Se, X81Sg, X81Sr, X83Vm, X80Z
Laptop Battery Comparison Chart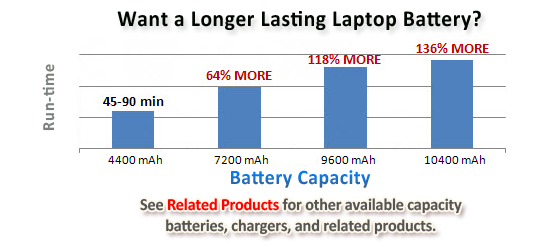 How to Charge the Li-ion Asus a32-f80 battery?
Claims of fast charging a Li-ion Asus a32-f80 laptop battery pack in one hour or less usually results in lower charge levels.
Such a charger simply eliminates stage two and goes directly into 'ready' once the voltage threshold is reached at
the end of stage one. The charge level at this point is about 70%. The topping charge typically takes twice as long
as the initial charge.
Depending on the charger and the self discharge of the Asus a32-f80 battery, a topping charge may be implemented once
every 500 hours or 20 days.
No trickle charge is applied because the Li-ion laptop battery pack for Asus a32-f80 laptop is unable to absorb overcharge.
Trickle charge could cause plating of metallic lithium, a condition makes the cell unstable. Instead, a brief topping
charge is applied to compensate for small amount of self-discharge Asus a32-f80 battery and its protective circuit consume.
How can I maximize the performance of my Asus laptop battery?

Prevent the Memory Effect - Keep the battery healthy by fully charging and then fully discharging it at least once every two
to three weeks. Exceptions to the rule are Li-ion batteries which do not suffer from the memory effect.

Keep the Asus laptop battery pack clean - It's a good idea to clean dirty battery contacts with a cotton swab and alcohol.
This helps maintain a good connection between the battery and portable device.

Exercise battery - Do not leave the battery dormant for long periods of time. We recommend using battery at least once every two to three weeks. If a Laptop Battery has not been used for a long period of time, perform the new battery break in procedure described above.

What is the run time of battaussie.com's Laptop Battery?
Asus laptop battery have two main ratings on them: Volts and Amperes. Because size and weight of Laptop Battery is
limited when compared to larger batteries such as car batteries, most companies show their ratings with Volts and Mill amperes. One thousand Mill amperes equals 1 Ampere. When buying a battery, select batteries with the most
Mill amperes (or Ah). Batteries are also rated by Watt-Hours, perhaps the simplest rating of all. This is found by
multiplying the Volts and the Amperes together. For example:
14.4 Volts, 4000mAh (Note: 4000mAh is equal to 4.0 Amperes)
14.4 x 4.0 = 57.60 Watt-Hours
Watt-Hours signifies the energy needed to power one watt for one hour. This Asus laptop battery can power 57.60 watts
for one hour. If your Laptop runs at 20.50 watts, this Laptop Battery could power your Laptop for 2.8 hours.

With our high capacity laptop battery, notebook battery options you can work,
watch and play longer - up to 68% more capacity than your original factory battery. All of our
laptop battery and notebook battery offerings are newly built, using only the top quality battery cells,
and all of them feature high capacities.